Showplace and place of historic interest
The Kibi road seems to be away from sightseeing spots such as Okayama and Kurashiki, and there not to be too much a lot of tourists because public transport is not so good. However, the bike path is maintained, and you seem should visit with the bicycle slowly.
Introduction of showplace and place of historic interest
Because the page of the photograph collection had increased, the page that introduced scenic spots and places of historical interest was newly made. The photograph becomes a center, and I want to write information on the place as much as possible.
Here are the historic sites I actually visit sites around, many sites still do not actually introduced, we would like to enrich gradually.
Panorama of Bittyu-Kokubunji temple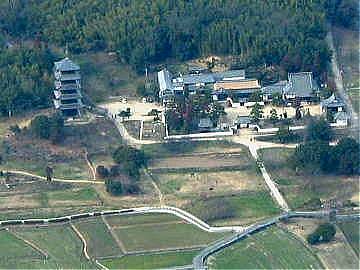 This Bittyu-Kokubunji photos were taken from the air by my son riding a Cessna 172. Morning or evening this place is filled with people taking Bittyu-Kokubunji pagoda. There seems to be the point of good photography.
In spring, during the rape of rice fields and lotus flowers, fall blooming flowers and the cosmos would seem to fill a photographer again. This five-story tower that would be so beautiful.
This place was supposed to Kurashiki Setouti 2days march 40km course. After the merger with the city of Kurashiki and Mabichō, Kibiji course this was no longer one point, it revived again. Change has become the destination Mabichō from Anyōji. (2007 taken)
I want to actually go, to look, and to put the heard impression etc.I want to put an off-the-beaten-path showplace.